The Facitlities of the Nordic Centre Building
北欧中心 - 马锦明楼
---
The Nordic Centre building on Fudan campus came into full service in 2010. It hosts the offices of the Nordic Centre and also – like the old building – the Foreign Affair Office of Fudan University. On 26th May 2010 an opening ceremony was launched by the Nordic Centre and Fudan University to celebrate the completion of the new building plus the 15th anniversary of the Nordic Centre. Distinguished guests from all of our member universities of the five nordic countries and China were invited to witness the historical moment.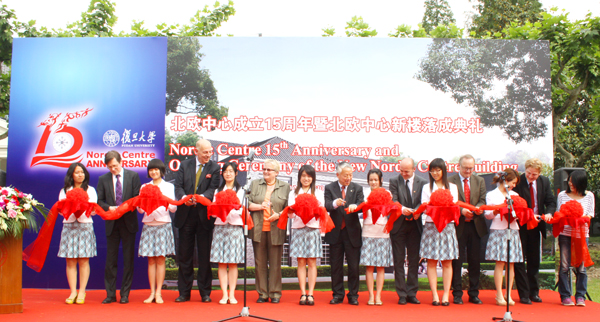 "Never before has the Nordic region had such a strong position to cooperate with and brand itself at one of the best universities in China as we will have when the new building is finished in 2010. For the member universities, it will be a great platform for engaging more broadly with researchers at Fudan and at other universities in Shanghai. At the same time, I am sure that the new building and the many activities that it will host can help attract even more Chinese students to Nordic universities and in the long run become important players when the Nordic countries and our companies continue to develop their links to China" says the former Chairman of the Nordic Centre Board and Rector of the University of Tampere, Krista Varantola.
With the new facilities the Nordic Centre tries to provide a home away from home for Nordic students and scholars as well as deliver more comprehensive supports and practical services as a platform for Sino-Nordic collaboration in various fields.
To take a closer look, please click to access more detailed information about our facilities:

---
There are two classrooms in the Nordic Centre Building: room 101 and room 109 on the first floor. While room 101 resembles a small auditorium with colorful cushioned seats fixed to the ground in 10 rows, room 109 is smaller and more flexible with light talbes and chairs which can be easily arranged into different layouts for different occasions
.
Capacity: 80 for room 101, 50 for room 109
Equipment: projector, screen, DVD player, microphones,
surround audio effects
Function: lecutre, seminar,
movie night,
etc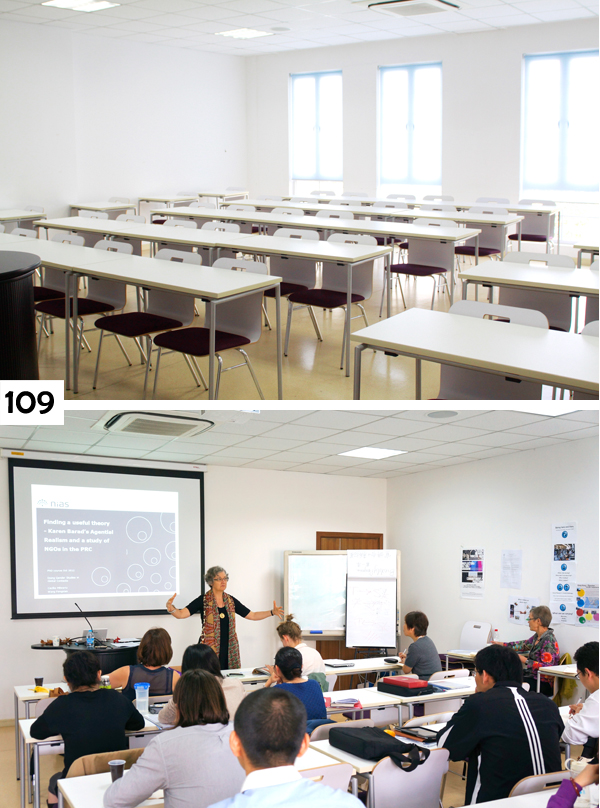 The Nordic Centre has two meeting rooms located on the 2nd and 3rd floor. Room 201 is a small room suitable for intense round-table discussions of small groups. The layout of the room can easily be changed for different occasions. Room 302 provides more space and design elements.The long round table can be aligned together according to the size of the group. Moreover, there is a nice, cozy alcove in the room with a sofa and a small table.
Capacity: 15 for room 201, 40 for room 302
Equipment: projector, screen, microphones
Function: lecutre, seminar
, conference,
etc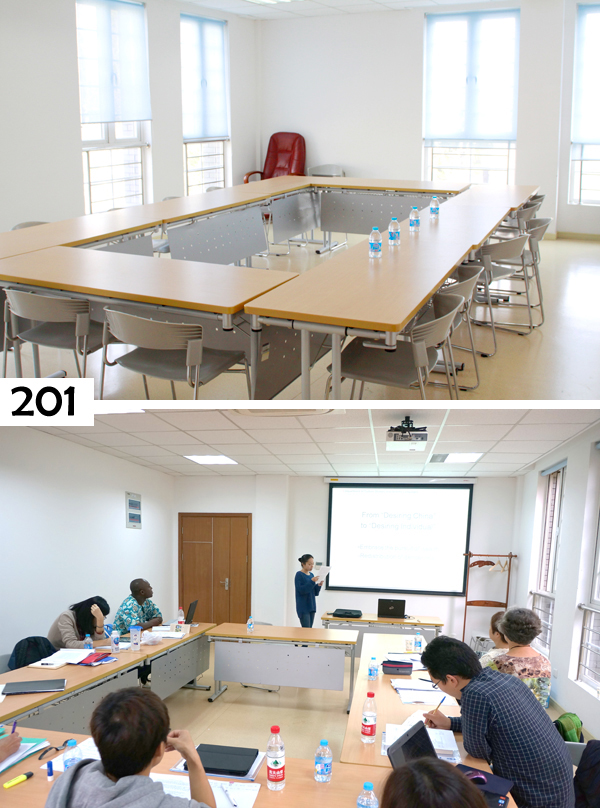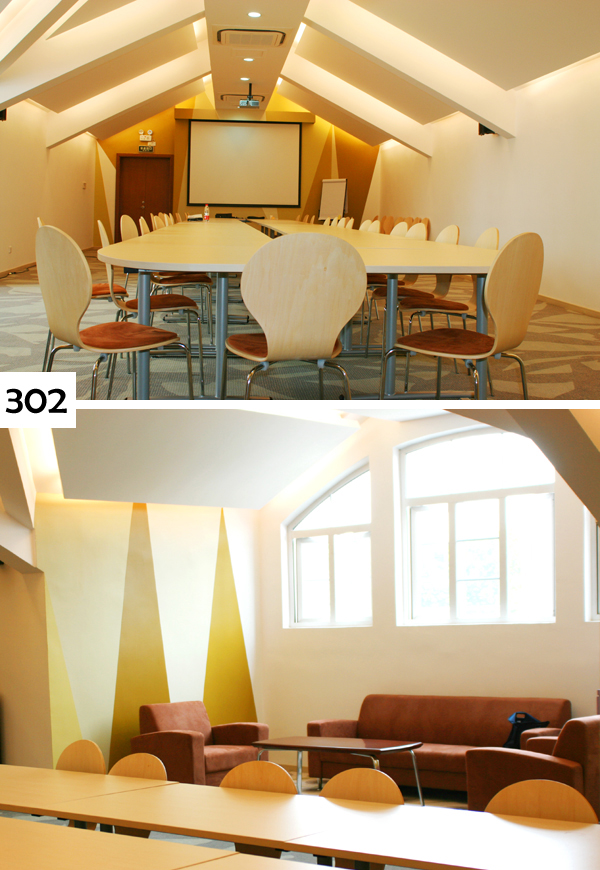 ---
Room 203 and 209 are set up as short-term offices for Nordic visiting scholars from our member universities and institutions who come to Shanghai in pursuit of study or research. Contact our programme manager if you want to hear about the possibility for reserving a working space.
Capacity: 3 for room 203, 4 for room 209
Equipment: computers with internet connection, printer, copy machine
Function: Office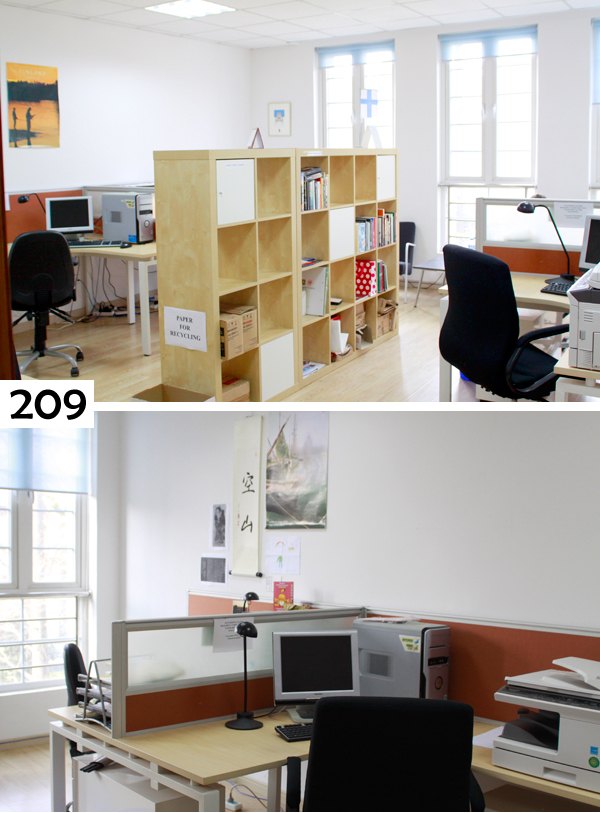 ---
Access detailed info of the Nordic Centre Library by clicking here
---
In room 208 there is a multi-functional student lounge. In addition to the many tables and chairs set up for individual studying and group discussions, there is also a casual sub-area with sofas and shelves with free copies of Nordic books. The student lounge is a place where Sino-Nordic students can hang out and possibly find a language partner via the bulletin board of our "buddy program". It's also used by the Nordic Society of Fudan University as their office and activity room.

---
The Nordic Centre also dedicates itself to various kinds of educational and cultural events in an effort to promote Nordic Universities and Nordic culture. When an alumni party or university fair is happening at the Nordic Centre, the lobby and the wooden terrace are convenient places to host the event.